The number of Chinese studying overseas for master's degrees continues to increase, a new report shows. In addition, more undergraduate students are studying abroad to obtain higher academic qualifications and be more competitive in the domestic job market, it found.
  According to the annual Report on Chinese Students' Overseas Study, released on Tuesday, students with bachelor's degrees made up 68 percent of the total students planning to study abroad this year for their master's, up 8 percentage points from 2017 and 11 percentage points from 2016.
  Chu Zhaohui, a senior researcher at the National Institute of Education Sciences, said some undergraduate students go abroad to avoid the increasingly competitive job market.
  "A master's degree today has the same effect as a bachelor's degree 10 years ago in helping students land a good job," he said.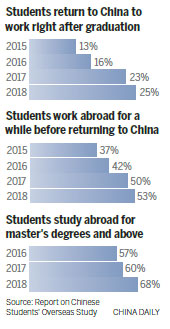 The report was based on a survey conducted by Vision Overseas Consulting Co and Kantar Millward Brown in over 40 cities in February and March. The survey covered around 5,000 students who plan to go to school abroad or have returned to China after graduation, and their parents.
  It also found that more students who study overseas plan to work in China after graduation because they find it difficult to land jobs overseas and the domestic employment market is more appealing.
  About 78 percent of students planned to work in China either right after graduation or after working abroad for a while, compared with 58 percent in 2016. Only 13 percent of students plan to work abroad after graduation, the survey found.
  The total number of students studying abroad and the number of returnees reached record levels last year, according to the Ministry of Education.
  More than 600,000 Chinese studied abroad in 2017, up about 11 percent from 2016. Almost 80 percent, or 480,900 students, returned home after completing their studies.
  Qi Bin, vice-general manager of Haiwei Career Services, a subsidiary of New Oriental Education & Technology Group, which specializes in employment for returnees, said the percentage of those coming home will continue to grow at a faster rate.
  However, graduates returning to China are realizing that studying abroad no longer guarantees a well-paid job, as a record number of graduates prepare to leave China's universities, she said.
  The bad news for them is that competition is set to become more cutthroat because China's universities are expected to produce a record 8.2 million graduates this year, according to the Ministry of Education.
  The report shows that 40 percent of returnees found their salary needs met their expectations and only 14 percent of the jobs are related to their majors.
  "More than half of returnees spent more than four months to find a job and only 20 percent had job offers before graduation," Qi said. She said one of the biggest obstacles to securing a job after returning is that they miss the prime job-seeking season and lack internship experience.
  However, overseas study still provides returnees with advantages - their experience tends to make them more independent and equips them with a global mindset and better language and communication skills - important characteristics for future promotion opportunities, she added.
上一篇:没有了