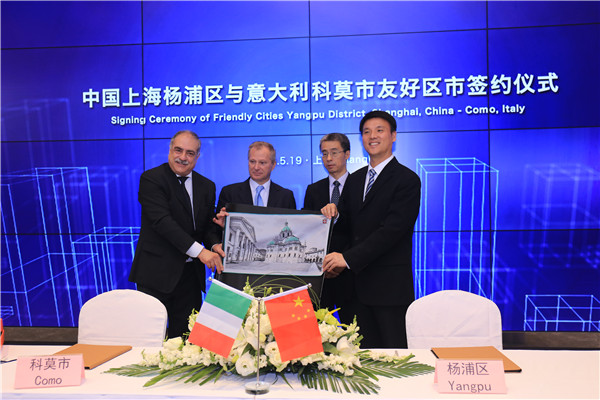 Shanghai's Yangpu district and the Italian city of Como signed an agreement on May 19 to become sister cities and work together to promote each other's design and cultural offerings.
  According to the agreement signed at the Oenotria Italian Handicraft Customization Exhibition and Trade Center in Yangpu, the Chinese district will introduce the Milan Fashion Week and the Venice Biennale to the its scenic waterfront area in cooperation while deepening cooperation with Como and other Italian cities.
  Meanwhile, the Yangpu-based Shanghai International Design and Trade Promotion Center also signed strategic cooperation framework agreement with the Italian National Confederation of Craftsmanship and Small and Medium Company and other small and medium-sized enterprises from Italy.
  "Como is the silk center of Italy and Europe and has witnessed centuries of Sino-Italy cooperation and communication along the ancient Silk Road," said Yangpu district's governor Xie Jiangang. "We believe both countries will have a closer cooperation under the Belt and Road Initiative."
  Como's mayor Mario Landriscina agreed.
  "Italian entrepreneurs have already been working with the Yangpu district where innovation is encouraged and supported," he said. "With the great potential of Yangpu district, the two places will open a new chapter together."
  Yangpu, one of the key districts behind the city's drive to become a global innovation hub, is now shifting its focus from traditional heavy industries to cultural and creative industries.
  The cultural and creative industry has already been a major pillar industry in Shanghai's economy, accounting for about 12 percent of the city's gross domestic product.
  According to the municipality's newly released city plan, Shanghai will further develop its cultural and creative industries, pushing their added value to about 15 percent of the city's GDP within five years, and to about 18 percent by 2030.
  "Even though Italy is a small country, we have the world's leading handicraft techniques. Nearly 85 percent of the silk ties sold by high-end brands are made in Como," said Stefano Beltrame, the Consul General of Italy in Shanghai.
  To encourage foreign companies to enter the Chinese market and support the upcoming China International Import Expo in November in Shanghai, the municipality has designated dozens of exhibition and transaction platforms to offer year-round service. The Oenotria Italian Handicraft Customization Exhibition and Trade Center is one of them.
  As a communication platform between China and Italy, the center will also introduce more cultural and creative projects from the museum of Da Vinci in Florence, luxury automaker Maserati, and the Targetti lighting company.
上一篇:Rear-end traffic collision saves kidnapped woman
下一篇:'Milk testing notice' for teachers suspended after criticism